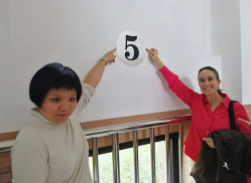 This month's Connecting the Dots blog is written by Guest Contributors Helen McCabe, Ph.D., BCBA and Zhang Ge. Dr. McCabe, an Associate Professor of Special Education at Daemen College, has worked cross-culturally in China for many years and Zhang Ge is an autistic adult living in China who graciously agreed to share a bit about her life for this blog. The majority of autism research within the behavior analytic community is conducted in English-speaking countries and primarily in North America. Dr. McCabe and Zhang Ge provide a small glimpse into their lived experience of living and working in China.
Dr. McCabe
My journey with autism, ABA and China began 29 years ago, in 1992, and began with Zhang Ge. I majored in Chinese/East Asian Studies at Middlebury College and was accepted to the Hopkins-Nanjing Center for Chinese and American Studies the year I graduated. As excited as I was about that, I also was torn because I had been introduced to several children with disabilities through Special Olympics in Vermont, and I realized I might want to pursue study or work in a related field. So, I went to Nanjing, China in fall 1992 and, within a month, I realized that I needed to explore ways to volunteer with children with disabilities there. I wanted to learn about disability and special education, and become a part of it, IN China, while also studying ABOUT China.
The center where I was studying happened to be right down the street from a children's mental health center, where I met Dr. Lu, who specialized in autism. I didn't know anything about autism before then, but I wanted to volunteer with a child with a disability, and he wanted to introduce me to an 8-year-old girl with autism—and so I met Zhang Ge! Now she is 37 and, as a lifelong auntie to her, I have become increasingly concerned with issues for individuals with disabilities in adulthood in China.
When I was at the Hopkins-Nanjing Center, Zhang Ge and her parents came to see me each week; I learned so much from them about autism and about China. Her parents told me about her unique interests – at the time, one big interest was pandas – and about things that made her uncomfortable, including the moon. While in Nanjing, I also learned about the lack of services for individuals with autism in China at that time. By the end of the year, I knew that, although I wanted to complete a master's in East Asian Studies, I also wanted to pursue autism and special education and, specifically, to understand how to work with individuals with autism, and to understand autism in the context of China.
Zhang Ge changed my life. I was planning to study East Asian Studies and then not sure what would follow. Through Zhang Ge and my experience in Nanjing, I realized I wanted to learn whatever I could about working with this population. I had an opportunity about six years after meeting Zhang Ge to work for The May Institute as a behavior therapist, and that's where I learned about working with children using principles of ABA and began introducing that work to colleagues and families in China. I then completed my Ph.D. in special education and international education policy and started to do training lectures for teachers and parents about using ABA-based special education strategies in China. I have met hundreds of families and teachers, through working, volunteering, and doing research in China. (Thanks to Middlebury and Hopkins-Nanjing, I am fluent in Chinese and these relationships have been facilitated by that!) In 2006, with my sister, I co-founded The Five Project for International Autism and Disability Support. The Five Project brings experts to China to provide training to parents and teachers and, together with Zhang Ge's parents, also established a support group for adults with autism and other disabilities and their parents; this group has run continually since 2008 in Nanjing.
Through the years, I have been fortunate to continue my close relationship with Zhang Ge and her family, and to learn from her experiences growing up with autism in China. I was there when Zhang Ge got her first volunteer employment opportunity at the Brain Hospital Children's Center in the summer of 2000. I remember our excitement walking there, knowing this was her first professional opportunity! Employment opportunities are very rare in China, and she has benefitted from openness from friends, contacts, and community members. In 2002 there was a TV program about Zhang Ge and her family, which led to her current employment at the community library! Her parents are huge advocates for opportunities for her, as well as supports and models for other families of children with autism. Zhang Ge was diagnosed quite early in China in —1988. She is one of the older people living in China with the diagnosis. Zhang Ge and her family have met a lot of younger families over the years, and tried to provide support and guidance including, but not limited to, through FIVE's support group.
Recently, Zhang Ge and I were on a zoom call (which we do weekly) and I asked her some questions about her life and interests, to share here in this blog.
Zhang Ge (interviewed and translated by Dr. McCabe)
Share your name and where you live.
My name is Zhang Ge. I live in China, Nanjing.
Who do you live with?
Dad and mom.
Do you have other family members?
I also have a little sister in Washington DC. (editor's note: Zhang Ge's sister, Jenny Wu, is an artist http://jennywu.art/)
Tell me about Helen who is interviewing you.
Helen ayi (Auntie Helen).
Who is Auntie Helen? What can you say about her?
Auntie Helen is you, my best friend.
When and where did you meet Auntie Helen?
1992, in the last month of the year. At the Hopkins-Nanjing Center. I was a student at that time. [She was in 3rd grade at a special education school at the time].
Where do you work?
Jinling Library.
What do you do at work?
I organize and straighten up newspapers and books.
How do you get to work?
I walk. I walk by myself to go to work.
How long have you worked at the library?
I have worked there for 16 years. Started on March 4th, 2005.
What do you like to do when you are not working?
I like to play drums, draw, and listen to music.
Did you draw today?
Yes, I drew Auntie Helen and Blackbeard (editor's note: Blackbeard is a nickname for Helen's husband Eric)
Many people reading this live in the United States. What do you want them to know about you and your life?
I like blue, and I like the number 5! I play the electric saxophone. I attend a drum class with my mother. My father teaches me the saxophone, he plays it too.